WeatherFlow Networks has been licensing our unique data to, and working closely with, NOAA-NWS since 2009. Throughout that time we have expanded our industrial grade weather station network to cater to their needs.
While weather observation data is increasingly important to situational awareness and forecasting, it has not been feasible for NOAA and other national meteorological agencies around the world to fully meet the exponential increase in demand for data. Recent years have seen a dramatic increase in the number of public and private mesoscale observing networks (mesonets) installed to fill the data gaps between NOAA's official observing stations. State-sponsored networks like the Oklahoma Mesonet, along with private industrial grade mesonets such as WeatherFlow's networks are now contributing to significant advances in real-time warning and detection of severe weather.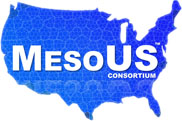 In 2010, WeatherFlow co-founded the MesoUS Consortium – a group of private, state, and university mesonets operating across the United States. Working under the NWS' National Mesonet program, WeatherFlow and its MesoUS partners have been working aggressively to create common standards and protocols in order to increase and improve the consolidation of mesonet data and create a single access point for all users – government and non-government alike. We also helped co-found Synoptic Data PBC, an organization dedicated to helping qualify and standardize these disparate datasets and ensure quality data from all networks flows to NOAA and other organizations across the world in a useful form.